More fun this weekend....Jewelry party tonight, possibly a game night tomorrow night (if we feel up to it)and our Holiday card photo shoot on Sunday. I can't believe that Thanksgiving is less than 2 weeks away. Where has this year gone?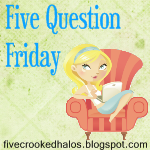 1. What is the most physically painful thing that has ever happened to you?
I have been very fortunate and would have to say that my most painful experience was labor and my c-section. I had no idea what to expect and it was pretty excruciating, but I have to say that I am pretty proud of the fact that I think I handled it pretty well. My husband and I thought that I wouldn't be able to handle it at all (we both thought I was pretty wimpy when it comes to pain) but I withstood the pain for quite some time and on my own (that's another story).


2. How much sleep do you get at night?
Ahh sleep, how I miss you! Nowadays, I get about 6 hours of sleep a night. And it is not a solid 6 hours. Normally Miss Maggie wakes up around 3am and I help her back to sleep and then she wakes up again around 5 and again I help her. I know, I know, I am going to have to stop this soon...I will. Right now, I am really fortunate that I am able to stay home for the time being and I do go back to sleep in the morning when Maggie does, and that is about an hour and a half of more sleep.


3. How long did you believe in Santa Claus? How did you find out that he does not exist?
You know now that I am a mom, this is something that I have tried my hardest to remember and I just can't. I have no idea when I stopped believing...I think I might ask my mom.


4. What was the last movie you saw in a theater?
The last movie I saw in the theater was Twilight's Eclipse. I was very pregnant and spent the majority of the movie running to the bathroom. I can't wait till the movie comes out on DVD because I'm sure I missed a lot! But next week we are having our first date night and we are going to see Harry Potter. Wow I kind of sound like a teenage girl with my movie choices. Oh well!


5. What do you wear to bed?
Well I am sandwiched between Mr. Always Hot and Little Miss Hot Stuff and I am naturally pretty cold, so I normally wear fleece pj pants, a t-shirt, a sweatshirt and socks. And yet I am always still cold.....