Thanks to Trop 50 for sponsoring my writing about fabulous bloggers. This year Trop50 is granting 50 fabulous wishes. Click here to enter for a chance to win $1,000 to help grant a friend's wish!
Hmmm my top five bloggers...although I have many blogs that I really enjoy, it isn't too difficult for me to pick a top five. Basically they are all Mommy blogs, because that is where my head and heart is right now and I love to see and hear about other moms' experiences.
So here they are...
#5
Here we go...
This is an awesome blog written by first time mom, Kristi, mainly about her daughter Nora, who is only a few months older than Mags. I find that I can relate very well to things that Kristi is writing about and sometimes I find myself going back in her blog to see what she was doing when Nora was this age or that age. It also doesn't hurt that Kristi is wicked funny and I find myself cracking up all the time.
#4
I love Jenni (from the blog). Again she has two adorable little tikes and her youngest, Brynn is just a few months older than Mags (yep there's a trend). She also hosts this really fun meme, Your Three Words, that I love to link up to. She also lives locally so we share in our Phillies' love!!!!
#3
Cleared for Takeoff
Another of my faves is this blog, about the life of a pilot's wife as told from Katie's perspective. Katie is really cool and her daughter Ellie Kate is adorable. I never realized how difficult the life of a pilot's family could be until I started reading this blog. Also, Katie is super creative and she always has some great tutorials on lots of intersting things.
#2
And here she is ladies and gents, the woman who started it all (well my blog that is). As I've stated before, I stumbled upon "Blair's" blog when I was preggers and she inspired me to start this little venture. I love how open and honest Blair is and her little Harrison is practically edible he's so adorable. Blair is also uber funny and that always sweetens the pot!
And Finally......(drum roll please)
#1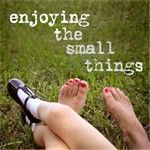 What can I say? This blog inspires me so much. It makes me want to be a better mom, a better photographer, a better crafter, knitter, fashionista, friend, wife...I think you get the gist. You can't read one of Kelle's post and not walk away feeling inspiration, love, wonder, energy, life. Needless to say her daughters Lainey and Nella are beyond words precious and it's so easy to see how much they are loved. This is the blog that I aspire to have one day, and if not at least a pretty good looking knock off.
So there you have it. This time last year I was completely ignorant of these wonderful little pieces of the interwebs and now I can't imagine what I would do without them. They help see this experience of motherhood in a completely different light and I am better for it.
Hope you are having a stupendous Wednesday!
Don't forget to enter the 50 Fabulous Wishes contest for a chance to win $1,000 to support a friend's wish. I was selected for this Tropicana Trop50 sponsorship by the Clever Girls Collective, which endorses Blog With Integrity, as I do. I received compensation to use and facilitate my post.