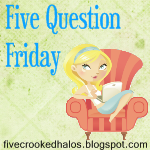 1.
Did you have a pen pal when you were little (or now)? Where were/are they from?
Yes, I had 2 pen pals when I was younger. The first one was named Rhea and she was my friend in middle school, and we wrote to each other for about a year after I moved away. Then when I was in ninth grade my friend Amy (I think that was her name) moved and we wrote to each other for awhile. I cannot for the life of me remember where Amy moved, it's going to bug me!!!


2.
If you could do a different job for one day, what would it be?
If I could star in a Broadway musical (preferably Wicked or Spring Awakening) just for a day, I think I could die happy. I have always loved all things Broadway and I really enjoyed doing all the musicals in high school. It was something that my parents encouraged me to pursue, but I never really had the drive.


3.
Do you remember your biggest fear from when you were little?
My biggest fear when I was little was swimming under water. It took me the longest time to learn how to do it and I was convinced that I would drown the minute I went under. I did have an excuse. When I was even younger I went swimming in the ocean with my mom and got taken under by a huge wave. It really scared me and I was leery of all things water for quite some time. I would like to report though, I did eventually get over my fear and I can't wait to teach my daughter to swim one day.



4. What is the oldest item you have in your closet?
The oldest item in my closet are two black handled canvas bags that I got at the Gap about 10 years ago. They were five dollars apiece and I thought they were a steal. Over the years they have managed to weather all of my moves and have come in very handy. I see no reason in getting rid of them!
5. What do you think is a waste of time? Why?


I know that worrying is a waste of time, but I cannot help myself. I know that I should concern myself with the present and make the best of what's around (DMB ref. HOLLA!), but I really struggle with it. This is my main work in progress. Because honestly I should just be basking in this.....
RIGHT????