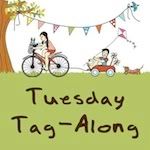 Day 12 – something you are OCD about
I wouldn't say that I am really OCD about much, but I am pretty adamant about expressing to children how important it is for them to read recreationally. Reading outside of schoolwork has so many benefits and will help kids so much in the long run. If they can find some type of book to read for enjoyment, then they will be set for life. It is so very important!
Day 13 – a fictional book
Wow, this really goes hand and hand with what I was just talking about before, and I think I have to give credit where credit is due. The Twilight series has really helped to interest a lot of non readers to start reading for enjoyment. I love the series and I think that it has been very beneficial in this movement.