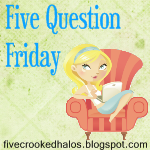 1. What is your favorite Halloween candy?
Candy Corn... And more specifically the pumpkin kind. Yum!!!!


2. Do you fold your socks?
I "ball" my socks up for the most part. Occasionally there are times when I get lazy though and then the socks just get thrown into the drawer.


3. What is something that you wish you had been warned about?
I wish someone would have told me how hard it is to fall asleep after you have a child. For the past two months I have spent the at least the first hour in bed worrying about her.


4. What is the most significant difference between you and your significant other?
Well he's a dude....but seriously I would have to say that he when it comes to certain things, he is the more patient of the two of us.


5. What are three words you would use to describe yourself?
Insecure
Compassionate
Helpful