Day 16 – a song that makes you cry (or nearly)
Instrumental pieces with lots of violins get me every time. Therefore, Samuel Barber's "Adaggio for Strings" literally makes me weep every single time I hear it. The first time I heard it was at a 9/11 memorial, so it is really wrapped up in some deep emotions for me. Not to sound morbid, but I would actually like it played at my funeral.
Also "John 19:41" from Jesus Christ Superstar...another instrumental fave. Again, lots of the violins...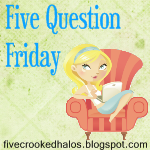 1. W
ho is the better cook, you or your spouse?
No contest..Brian wins this one. I have zero confidence in the kitchen, but I am working on it. Made some kick butt beef roll-ups on Wednesday, so slowly but surely...


2.
How often do you talk to your mom?
I talk to my mom about twice a week. We love sharing our pics of Maggie and talking about all of the cute things she does.


3.
Are you adventurous in the kitchen or stick to the recipe?
I try my hardest to stick to the recipe but occasionally I get flustered and miss something. Again working on the confidence.


4.
Is your second toe longer than your big toe?
Nope.


5. Do you dress up for Halloween? (Bonus question: What will you be this year?)
I had to for the past two years of teaching and I always go for the silly word play ones. Two years ago I walked around in wings with a can of Red Bull and said "Red Bull gave me wings" and then last year I taped a bunch of empty nerd boxes on my shirt and I was a nerd. I don't really get into it that much, and I will not be dressing up this year. I wasn't planning on dressing Maggie up, but someone lent her a costume, so I will take pics and post.